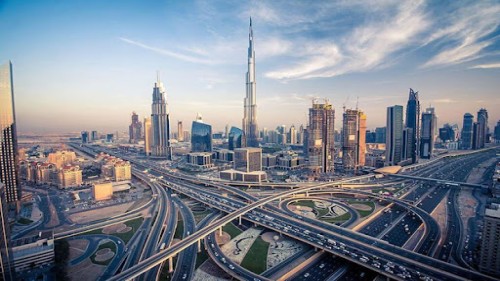 Dubai is an Emirate city in UAE, which was built from scratches in the desert. In less than a decade, the deserted place turned into a spectacular, futuristic, and world-class city. The luxurious hospitality, adventurous attractions, and state-of-the-art shopping experience have earned Dubai a must-see destination. Dubai never stops growing and this is the fourth most visited place on Earth. Some people get attracted to its ultra modern lifestyle or skyscraper touching each other in the blue sky while some people come to have an experience of cultural diversity in the city life.
No doubt, Dubai is worth visiting because of its beautiful places. Ranging from natural to man-made Dubai has top places to make your visit worth spending. The largest aquatic wonderlands, gardens & beaches, astounding shopping malls, and exciting cultural performances may confuse you to deciding what to visit and what not. This confusion may waste your lovely time in Dubai. To add to the jubilant time with friends and family in Dubai, we have brought you the Top 10 places to visit in Dubai.
10. Deira
Deira is the oldest, yet most prominent district of Dubai, located to the east of the city. It was once known as the city's heart since it was the hub of the emirate's primary banking and trade activity of perfumes, spices, and gold. It is called Dubai Home as it projects the traditional Arab architecture of narrow streets and small roads. You'll rub shoulders with the locals while adventuring the ancient gold souks and inhaling the fragrances of unknown spices. Aside from that, the region is home to some of the most lavish hotels, restaurants, and shopping malls. A full day in this top place in Dubai can give you an excellent experience of the culture.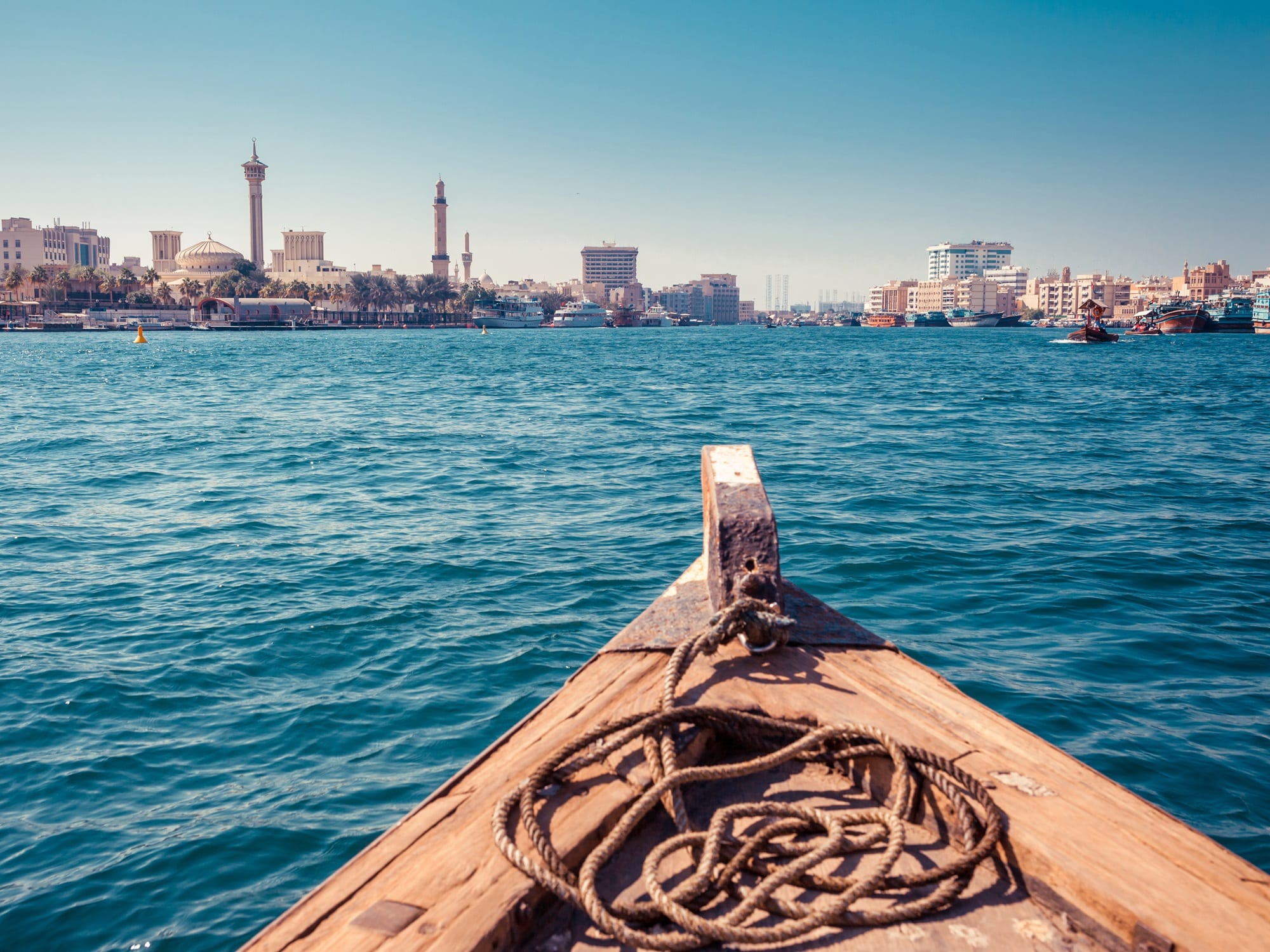 9. Dubai Creek
If you want to visit yet again the ancient part of the city, here is the top place to visit in Dubai, called Dubai Creek. The whole area flourishes with parks, and buildings, and is famous for relaxed picnics. You can take a dhow cruise and visit the whole of Dubai Creek with friends and family.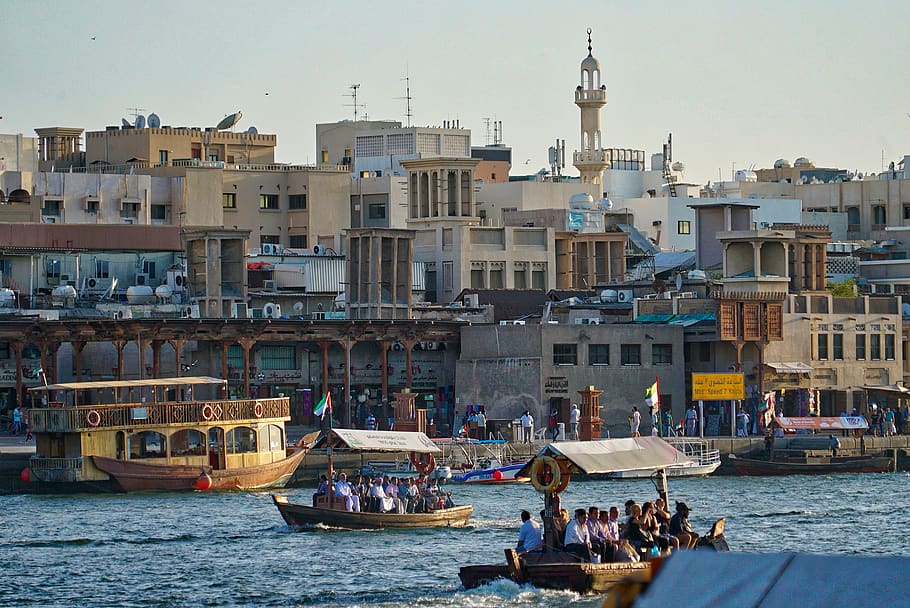 8. Dubai Fountain
You have come to downtown Dubai and did not get a glimpse of the choreographed music fountain; you missed an exciting place. The highest performing Dubai fountains are 500 feet equal to 50 floors of a tall building. The breathtaking sight of music, lights, and dancing water is worth watching. The Dubai fountain is present at the foot of Dubai Mall, so it would be wonderful if you visit these two top places in Dubai together. The spectacular show of lights starts daily from 6 pm to 11 pm (after every 30 minutes).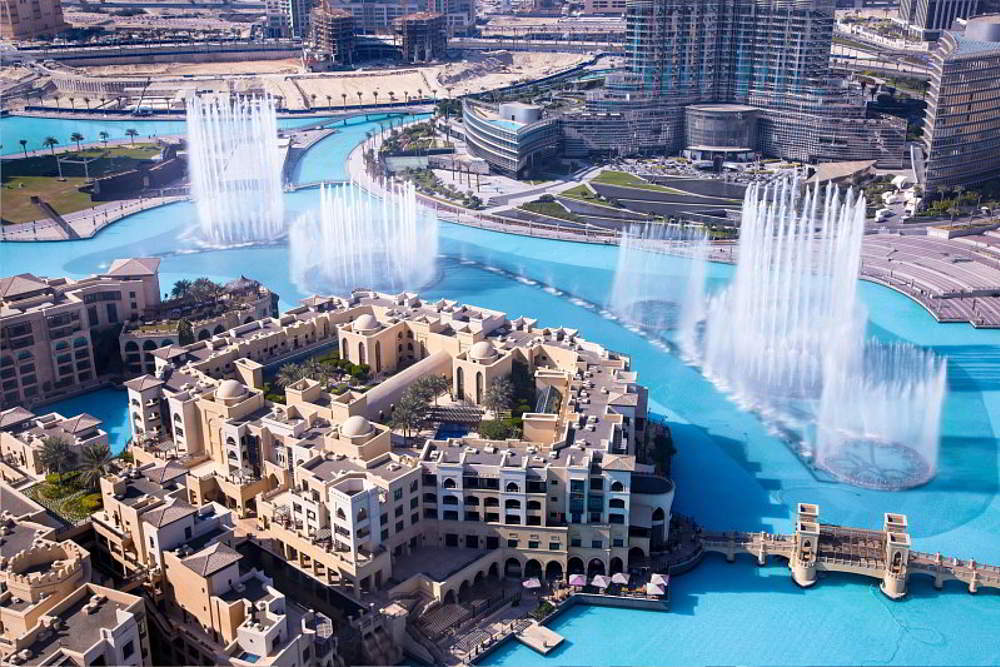 7. Museum of Future
Even though all places are great to visit but the museum of the Future is built for people of all ages. If you are in Dubai and want to see what the future would look like must visit this top place. Most museums display artifacts from the past or present, but what precisely is a museum of the future? Each floor of the museum represents a wonderful future of healthcare, robotics, governance, aviation, and space travel. It has separate sections for the DNA library of at least 4500 animals. The whole building has no corners, and it is designed with eye-catching Arabic calligraphy, and you will have a wonderful experience visiting it.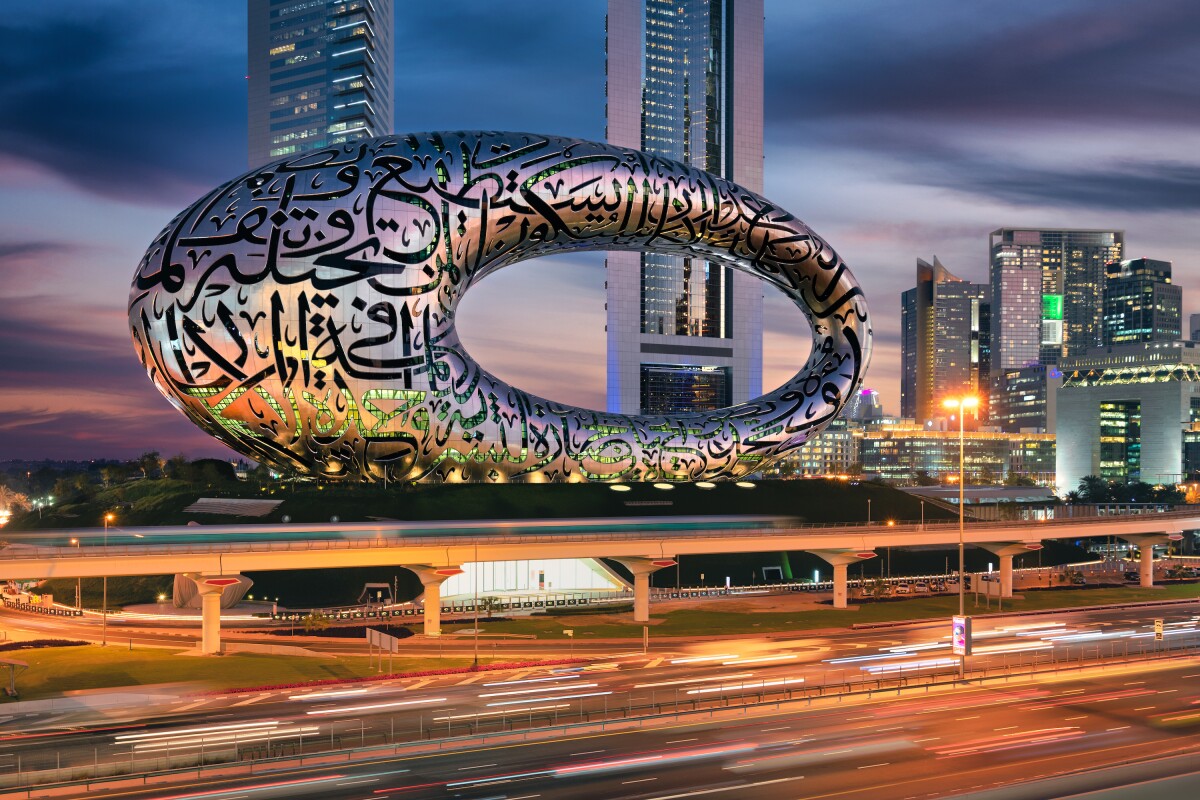 6. Dubai Mall
Dubai is not all about luxury hospitality, sky-touching buildings, and wonderlands. It is more about having an experience. Our next top place to visit is Dubai Mall. Many people around the world come just to visit this top place in Dubai. Dubai Mall is famous for its endless shopping stores, world brands outlets, and companies' offices. Here you can find cinemas, gaming zones, and food courts as well. You must visit a place in Dubai because it hosts live concerts, music fests, and fashion shows. So, it is expected that you might encounter one of your favorite celebrities while visiting the Dubai Mall.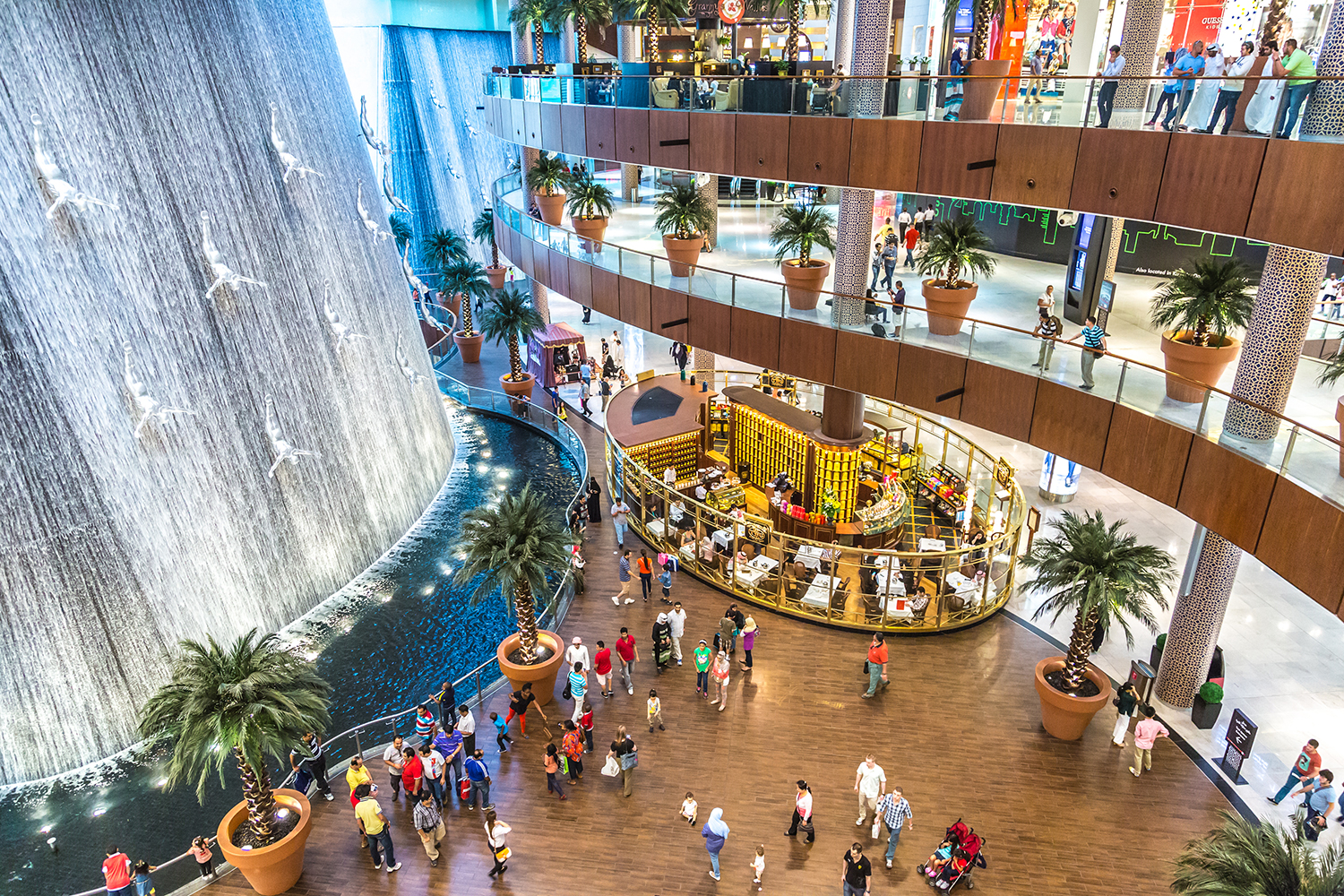 5.Ski Dubai
Ski Dubai is an indoor ski resort with a total size of 22,500 square meters. Throughout the year, the park has a controlled temperature between -1 to 2 degrees Celsius. It is a segment of the Mall of the Emirates in Dubai, which is one of the world's largest shopping malls. You can watch and play with 14 penguins which is a once-in-a-lifetime opportunity. You may enjoy all the wonder and enjoyment of making your own snowman or simply having fun in the snow at Ski Dubai's Snow Park!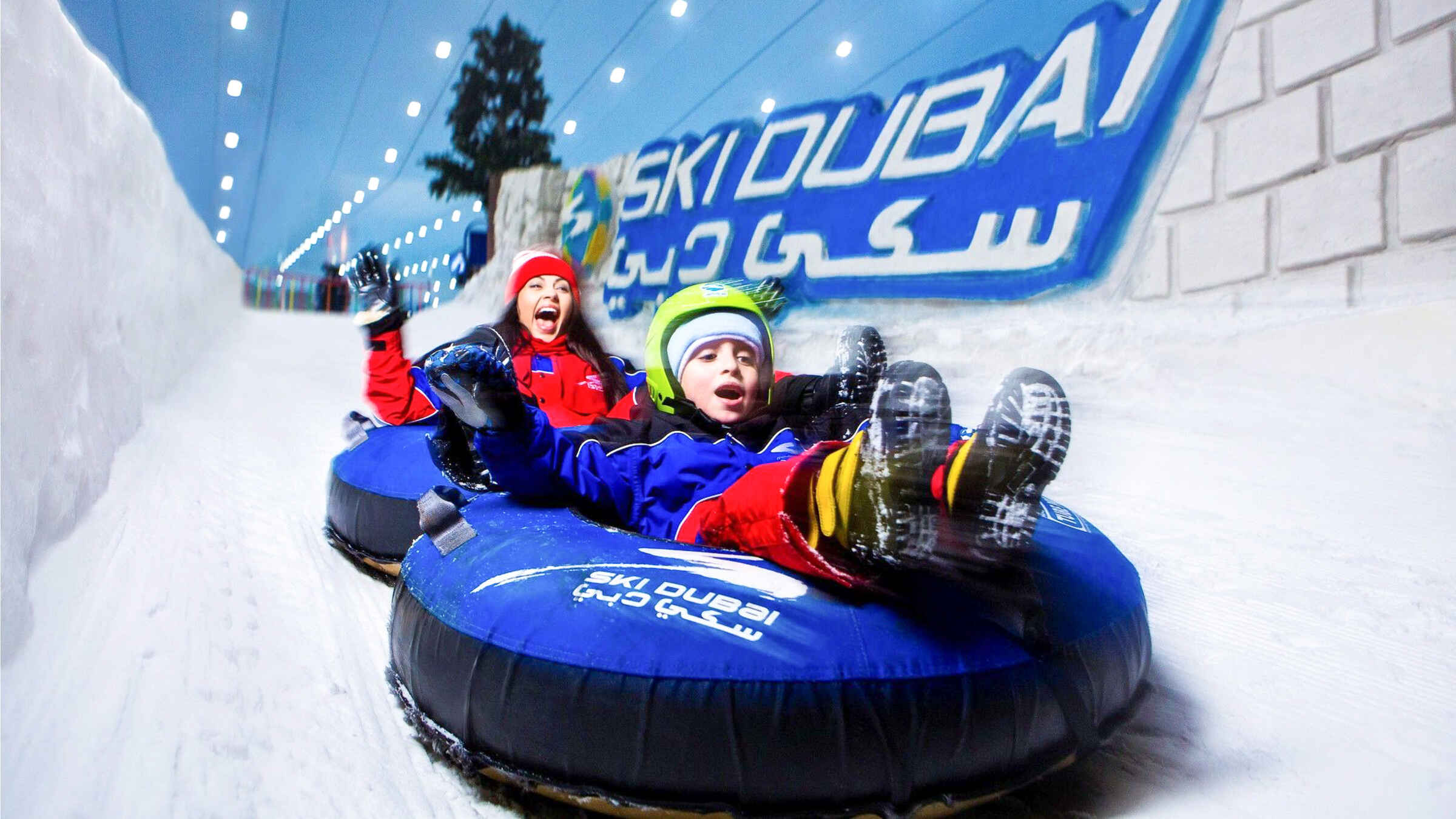 4.Burj Al-Arab
Our next top place to visit in Dubai is the world's tallest hotel, Burj Al-Arab. It is considered the most iconic hotel in Dubai. Present on its own coast, it can be seen from any part of the city as it has 56 floors with a height of 280 meters. The interior of the hostel is painted with 24 Carat Gold. The building picturizes the traditional merchant ship called Dhow. You can visit the Burj Al-Arab to view the expanded growth of the whole city with the naked eye, especially from the 27th floor. You can visit this top place in Dubai with your friends and family to experience luxury leisure amenities and a beautiful terrace.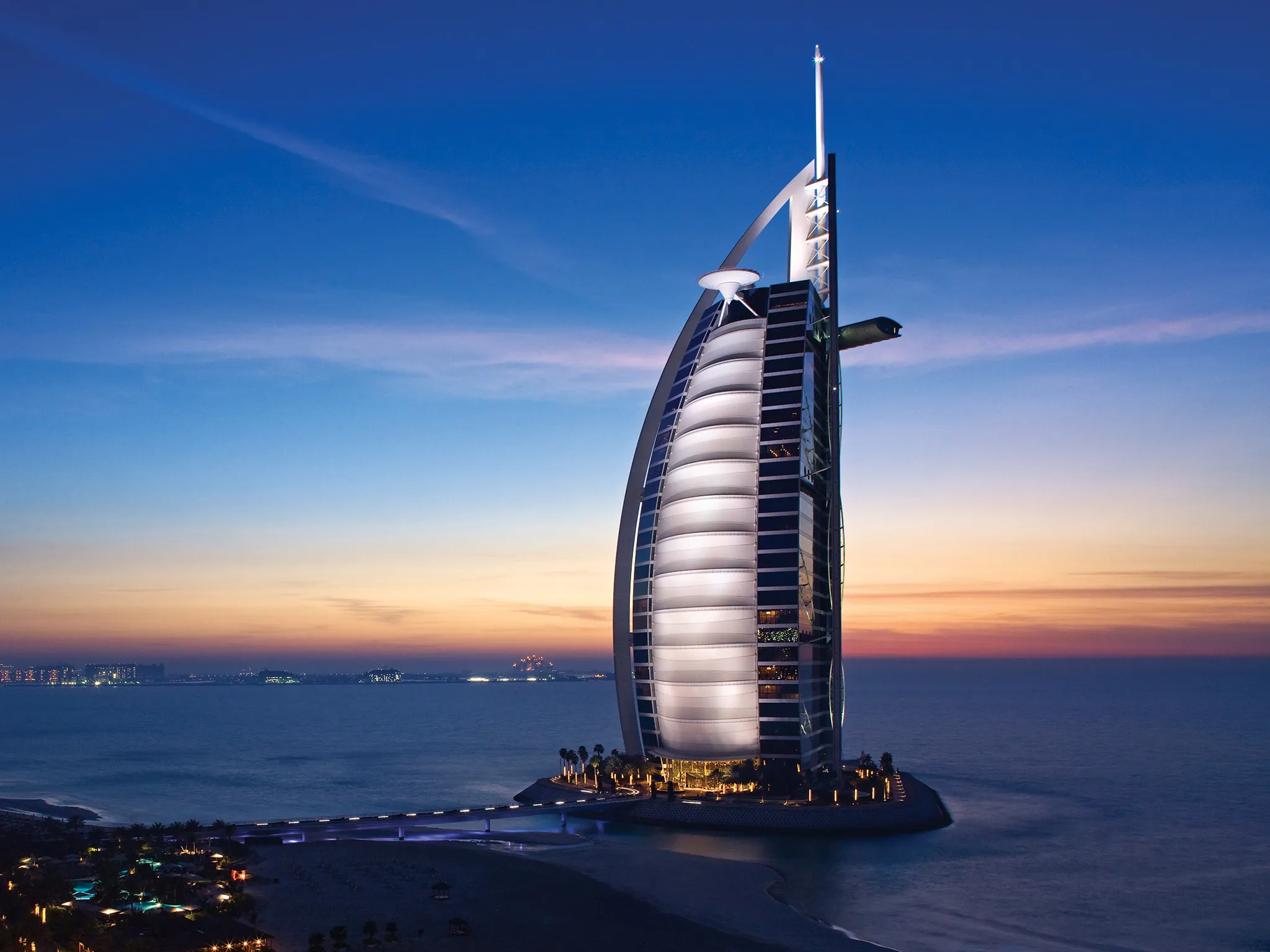 3. Dubai Aquarium and Underwater Zoo
The Dubai Aquarium and Underwater Zoo, which features 140 vibrant kinds of fish and other sea life, is another top place to visit in Dubai. The main tank holds 10 million liters of water and has the world's largest collection of sand tiger sharks. It is 75 centimeters thick being the world's largest glass panel in the world. To encourage you more to visit the top place in Dubai, the aquarium is home to at least 33000 aquatic animals such as seahorses, otters, and penguins. You can see all the underwater animals by buying tickets. If you are visiting Dubai with children, they will love visiting it. If you are an adventurous tourist then, you may also buy a ticket to swim among the sharks and other water creatures.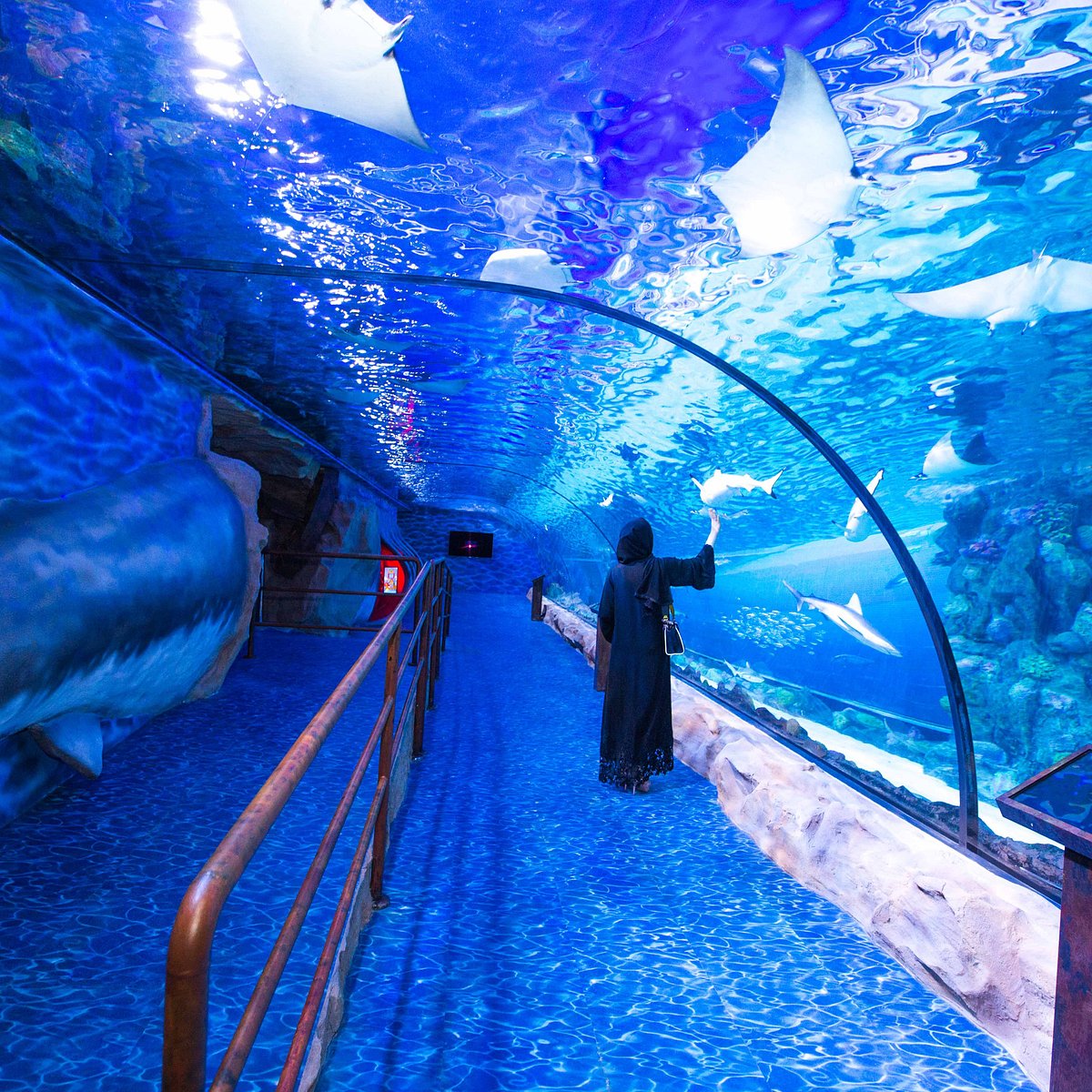 2.Palm Jumeriah
The Palm Jumeriah is one of the world's largest man-designed offshore islands. It is the projection of contemporary human imaginations marveled by engineering. It is designed like a palm tree which is the national plant of UAE. It is equipped with iconic hotels like Atlantis and Five Palm Jumeriah Hotel, spas, and clubs to attract at least 10000 tourists each month. Many tourists love to sail on a yacht around the island. Children love to play with sand at the beach. This top place in Dubai also has an Aqua-venture Waterpark, which includes the world's biggest water slide.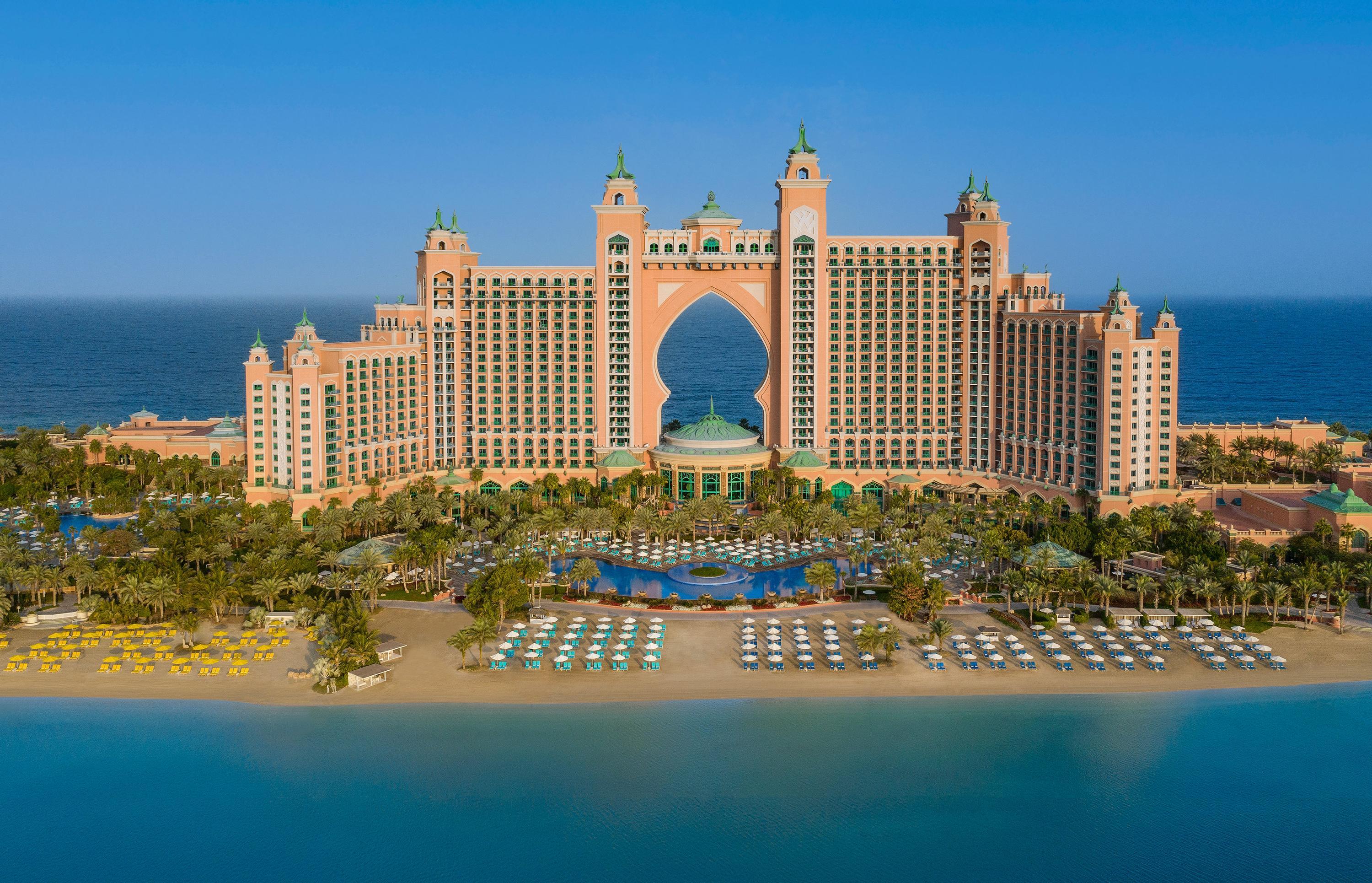 1.Burj Khalifa
The first top place to visit in Dubai is Burj Khalifa. No trip completes without the sightseeing of this wonderful man-made, freestanding tower. It has an incredible height of 829.8 meters. All the floors are furnished with multimedia and luxurious amenities to amuse its visitors. The 124th floor of the tower gives panoramic views of the city during the day and nightlife. The gardens around the tower are wonderful to have some time with friends and family.
In conclusion, Dubai is the best destination to spend your holidays. If you choose to visit these top places in Dubai then it will enhance your experience of travel, shopping, and excitement even more. Because it will be memorable to visit top ancient and modern places in Dubai to get an idea of it ever-evolving nature.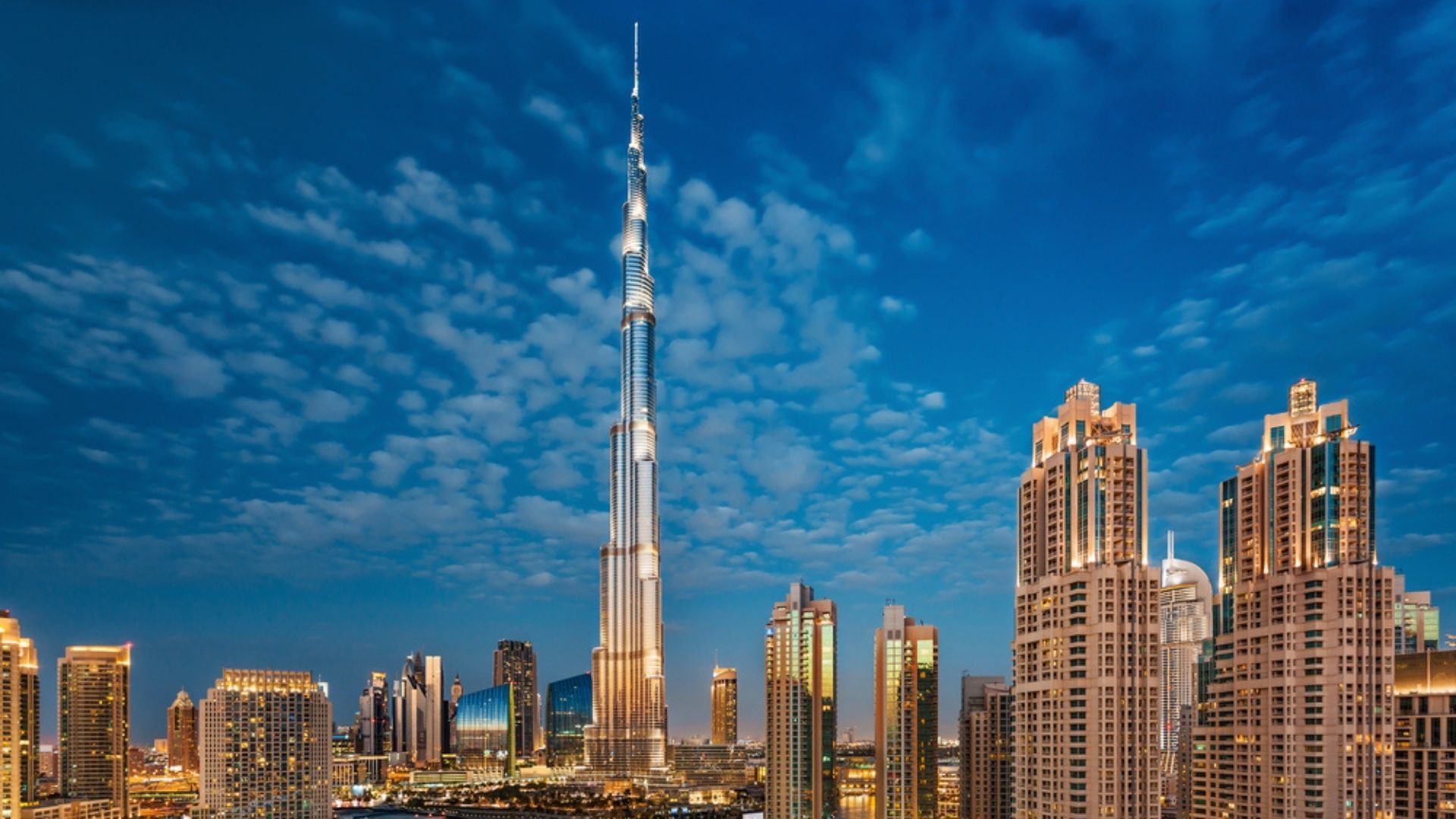 Facebook
Twitter
Linkedin
Pinterest